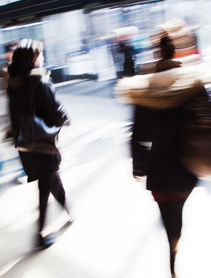 Public protection
RITMA believes that rigorous criteria and solid training are the very foundation of excellent therapists. Consequently, all RITMA members possess a minimum of 1000 hours of training.
We encourage you to send us any comments or concerns you may have regarding one of our members as well as the schools which we accredit. All comments will be evaluated in order to improve the quality of services rendered. To submit your comments, please use the ''Contact us'' link.
Rigourous Control
RITMA requires that their members submit, in addition to their verified diplomas, a resume detailing their professional journey. Our members must also procure an Errors & Omissions Insurance coverage. To ensure that our high standards are maintained, RITMA reserves the right to visit our members' clinics without notice in order to insure that their methods, installations and instruments are adequate.
In an effort to eliminate fraudulent abuse, RITMA requires that its members use receipts which are individually numbered, thus eliminating the possibility of inappropriate use. RITMA dedicates personnel to regularly review any/all publicity and/or websites belonging to our members, in order to ensure that their therapeutic and professional services reflect our standards.
It is our belief that practicing professionals, the general public as well as the insurance conglomerates would be better served by a universal governing body in Quebec. It is precisely for this reason that many provincial associations are tightening their requirements and elevating their standards.
To this end, RITMA diligently hopes for a consensus on this matter, for the benefit and validation of all alternative medicine therapists, as well as improvement of quality services for the general public.
Deciding about complementary and alternative therapies
People with cancer sometimes think about using complementary or alternative therapies. In fact, it is believed that many people have used at least one complementary or alternative therapy as part of their cancer treatment. There are many reasons for this…

Source: Canadian Cancer Society
Sexual Involvement
Did you know that sexual involvement between a health care professional and a client is an abuse of power and trust?
Source : Association québécoise Plaidoyer-Victimes (AQPV)

Codes of Ethics